About Us
Lost Creek Ranch is not your ordinary riding stable!

We are first and foremost a non profit horse rescue. All of our programs like camps, lessons and clinics support our mission to "Let no heart or soul, human or equine fall through the cracks."
At Lost Creek Ranch you can learn to ride Western or English on a variety of safe, well schooled lesson horses- there is certain to be one perfect for you whether you are a new rider or have years of experience. You can take lessons in Reining, Western Dressage, English flat or beginning jumping. Lynette specializes in perfecting her students equitation and giving them a strong seat to advance their riding in the discipline of their choice.
Lynette Weldon
Trainer, riding instructor, clinician, founder of Lost Creek Ranch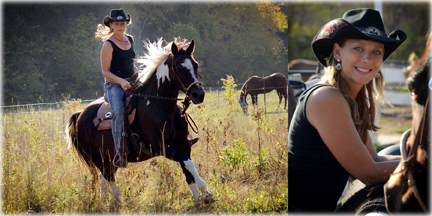 Lynette Weldon specializes in creating strong, confident riders and respectful, willing horses. Lynette's riders often joke that she is "half horse" because of her instinctual ability to understand what is going on between horse and rider. Lost Creek Ranch was founded on her strong belief that the horses needs come first- that horses are not just tools. It is this horse-first attitude that attracts riders from beginner to accomplished equestrians looking to further their skills. Everyone finds a place at Lost Creek Ranch and every horse that becomes part of the herd is trained by Lynette for a job they will excel at whether is it competing in the show ring, giving trail rides or building riders confidence as lesson horses.
Growing up Lynette cleaned stalls in exchange for riding time on horses that often no one else wanted to ride. These horses were excellent teachers. As an adult with family responsibilities her horse budget still did not allow for well bred high quality horses. In the long run this is how she became an accomplished trainer: by taking average horses and turning them into well trained, beautiful, willing partners. Her horse-first philosophy leads her to train using no short cuts, games or gimmicks- just real, honest horsemanship. Her training influences tend to be the greats from another generation including Buck Brannaman, Tom Dorrance, Ray Hunt, Frank Bell, Sally Swift and the inspiration for western dressage Jack Brainard.
The welcoming atmosphere Lynette has created at Lost Creek Ranch attracts clients from all over western Wisconsin and the Twin Cities who are eager to learn and advance their skills and enjoy the quiet refuge that is Lost Creek Ranch.
Meet Our Board of Directors
Lost Creek Ranch is a 501(c)3 non profit horse rescue dedictaed to our mission: "Let no heart or soul, human or equine fall through the cracks." Each of our Board Members bring their own unique experience and perspective to the ranch.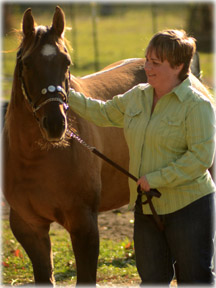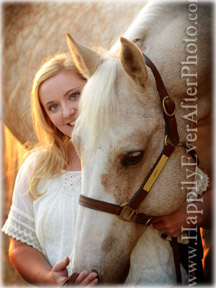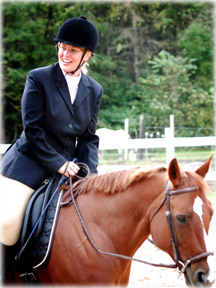 Cari with rescue horse Baby Star, Jenn with Jimmy and Ruth on Millie
Cari Campion: Director of Community Relations. Masters of Education in Counseling Psychology. When not at the ranch, Cari's works at the Liemandt Foundation and is a Reliv Independent Distributor. Cari is a strong believer in Search Institutes's Developmental Assets for youth. She has 3 boys, 3 rescue dogs, and 1 rescue horse. She loves to be at the ranch and finds the people, setting, horses and Lynette (owner) very rejuvenating

Jennifer Flanagen: Finances. Jenn has a bachelors degree in Marketing and brings her organizational and fund raising skills to the ranch. Being in a wheelchair gives her the unique ability to connect with and motivate the youth in our programs. Jenn has a sweet palomino named Jimmy who she rides sidesaddle on!

Ruth Harper: Director of Marketing. Ruth has a bachelors degree in Business & Marketing and is an entrepreneur, owns a photography business and at the ranch works on marketing, graphic design, website and generally on getting the word out about the programs we offer. Ruth owns a sassy red mare named Millie & a sweet little black arab named Mickey and also enjoys riding Moose , Nickers, Freckles and whoever else Lynette will allow when her own horses aren't looking!
Meet Our Staff
Our staff is an important part of our success!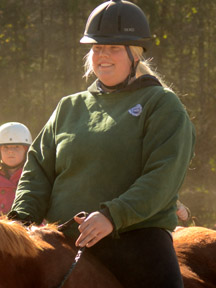 Sophie
Assistant Riding Instructor, Head Camp Counselor
Sophie earned the title "Extreme Volunteer" in her first season at Lost Creek Ranch. She came one day to help out and never left! Everyone loves Sophie- horses and people alike.
In addition to being a favorite camp counselor she teaches children beginner lessons, runs the Little Buckaroo preschool program and is learning to train her first horse, Bree, a beautiful appendix mare who will be going off to college with Sophie in the fall to Meredith Manor where Sophie will continue her equestrian studies.
Aimee
Intern, Camp Counselor
Aimee is an student at UWRF studying Equine Management. She and her quarter horse gelding Cisco have made themselves at home at Lost Creek Ranch and are a great addition to our programs!
Aimee is a favorite at camp and always knows how to make a lesson fun. She works hard to make sure all the campers and horses are happy. We are very lucky to have Aimee as part of our team and know she has a bright future as she continues her studies in the equine field.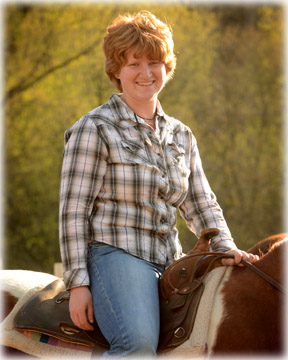 Sarah

Intern, all around ranch hand
Sarah grew up in Eau Claire, WI and is a junior at UWRF studying animal science equine management. She has three horses of her own and knows the value of a "golden oldie" school horse to learn on. Sarah is a member of her schools rodeo club and also has volunteered at the animal shelter in Eau Claire playing and working with the dogs and puppies as a volunteer.

Emily
Training Intern
UWRF, Senior
Animal Science- Equine Management
2012 Miss Rodeo St. Croix County
Emily has owned horses for 12 years, and currently have 6 of her own that she likes to ride and show. She has been working in horse barns since high school. She loves working with riders and sharing her love for horses with them! While at Lost Creek Ranch she hopes to further her horse experience.. She is really look forward to meeting and getting to know the people and horses who make LCR such a success!
Wayne
Trail Guide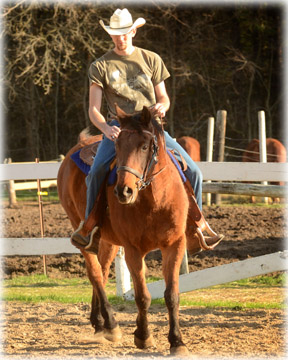 Wayne is more than just the Mr. Fix It around the ranch! Wayne maintains and knows the trails around the ranch, he is our head trail guide and also works Ranch Excursions helping introduce beginners to the joy of horses
He is also quite a roper and just might give you a roping lesson if you ask!
Meet our Guys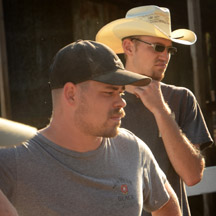 Both Joe and Wayne log countless hours at the ranch working on building projects, hauling hay and are an essential part of the ranch. Wayne and Joe have been a blessing since Kevin passed away. Everyone at Lost Creek Ranch, horses and human love "our guys."


Meet Lynette's Family
Kevin Weldon 02/05/63- 01/09/11
Lynette's husband and best friend. Kevin was always active behind the scene at the ranch and is missed dearly.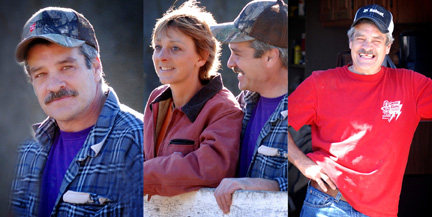 Lost Creek's Camp Hope is in Memory of Kevin

Lynette and Kevin have three adult children: Joe, Justin and Jordan. Jordan lives at home with her cat Troy and enjoys taking riding lessons on CJ when she is not at work or singing.

The rest of the herd includes Mac the black lab, Joker the german shepard and everyones favorite little tough guy Bruiser who is often chased by Henrietta the chicken and Tinker the barn cat.