Welcome
Winter Is Here- Come Ride Inside!
Check out our January activities
here

More info in our January Activity Calendar about our first

Western Dressage Virtual Schooling Show
.
$30 per test includes video, upload and scoring/ feedback from a recognized western dressage judge. Open to all students and tests range from grounwork to walk/ trot to advanced tests recognized by the USEF. Ride as many tests as you like but be sure to get on the schedule right away
-----------------------------------------------------------------------------------------------------------------------------------------
2015 Lost Creek Ranch Calendars Still Available- $20 each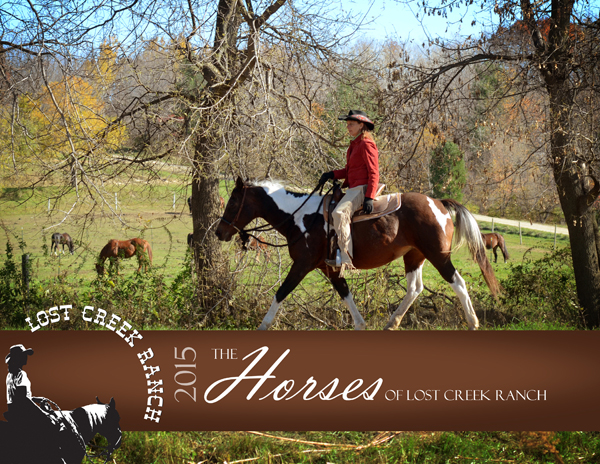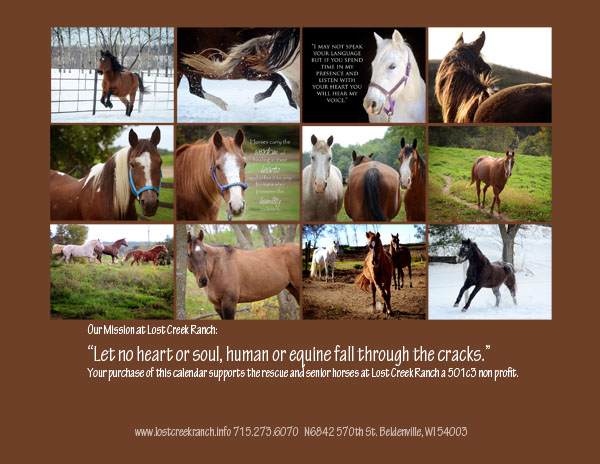 _____________________________________________
Howdy, from Lost Creek Ranch!!! If you have a love for horses and nature this is the place to be. We offer lessons, training, and leasing. Here at Lost Creek Ranch you will experience lots of TLC for the horses and family. Lost Creek Ranch offers a large outdoor arena, a bright indoor arena with lots of natural light, round pen, large paddocks, barn with new stalls and heated lounge. Shelter is provided in all of our turn out areas. Our annual CAMP CONFIDENCE overnight kids horse camps starts the second week in June, with ongoing sessions through out the summer. It's always a favorite among the kids and parents! The children stay in our bunkhouse and have their own horse for the week they're here. At the end of every camp session we put on a horse show for family and friends to show what we have accomplished together.
We are an official 501(c) non-profit organization as of November 2009. Visit our Sponsor a Horse or Child page for more information on this wonderful opportunity to help horses and children who could benefit from your gift of kindness. Many of our kids' lesson and camp horses were either rescued, given to us in hopes of providing them a more fulfilling life, or else given to us simply because they were no longer wanted. Some are seniors who require special diets and/or supplements and more frequent dental care. Others have certain medical, joint and/or hoof issues that also require specialized diets, supplements and frequent appointments with the farrier. Your donations and sponsorships help us meet all their individual needs. Thank you very much to everyone who has donated in the past!
Open Everyday: We welcome visitors! If you would like to watch lessons or get a tour of the ranch call ahead and we will have someone ready to show you around and introduce you to the herd.

Sign up to be on our mailing list
____________________________________________________________________
Rescue Updates
Your donation will help horses like Marvel who joined our herd in February 2014. Check the Rescue for updates on her progress and more photos.
Marvel (Marvelous Maggie) joined our herd recently- she is 24 and although boarded at "nice" facility locally she was starved while the other horses were fed. We are fortunate that a concerned person was able to help rescue her and her companion (who she now owns and has moved to a safe barn). Her body score when she arrived was 2. Marvel is sweet and quiet and seems especially interested in little kids making us think that in her long life there must have been at lease one special little girl who loved her. Now she will have many girls to love her and live out a happy life in her new forever home at Lost Creek Ranch.
A special thanks to everyone who supports the ranch through weekly lessons, leases and attending camps and clinics. Without you we couldn't help horses like Marvel.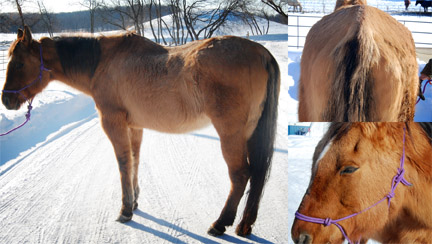 Below is Marvel today- JUNE 2014- enjoying the chance to jump.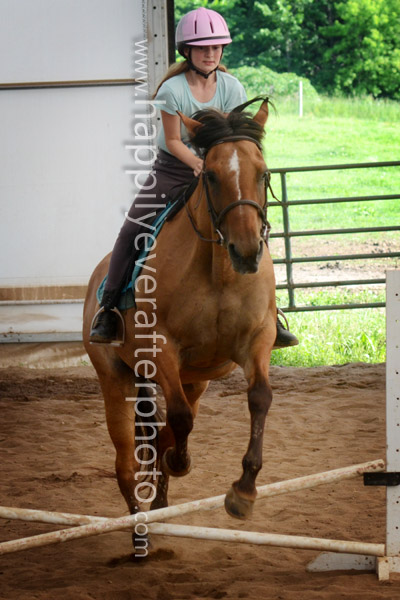 Marvel has a bright future thanks to your support. Send Marvell's story to your friends and family- the more support we have the more horses we can rescue.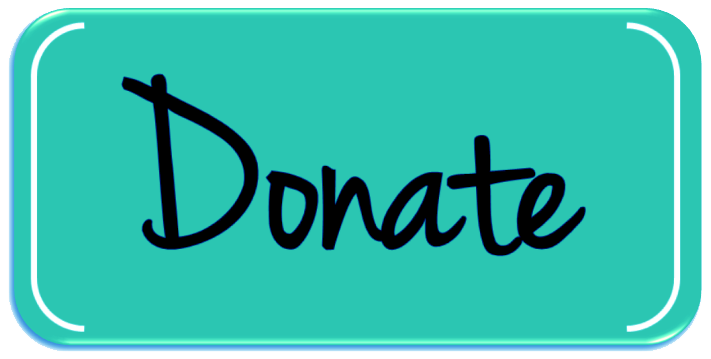 Lost Creek Ranch Camp Confidence earned its 501(c)3 non profit status in 2009 and we are proud to be a widely respected horse rescue that takes in horses of all ages and physical conditions, gets them the proper vet care, nutrition and the farrier work they need then once they are healthy trains them for a job they will love at the ranch- their new home. Our herd is kept fit and healthy by being ridden and worked with in our many programs from lessons to camps- even our oldest seniors love to work with the littlest riders or timid beginners. The younger horses get a new start in life with training and our UWRF interns learn new skills and develop the patience required to be effective with horses.
It all comes full circle here at Lost Creek Ranch!
Have you always wanted to learn to ride horses? This is the place for you! Riding instruction,the best horse riding lessons in Wisconsin, near the Minnesota border. Horseback riding lessons WI, MN for kids and adults: western riding lessons WI, MN, English riding lessons WI, MN and the best Horse Camp in WI, MN. Learn to ride horses at Lost Creek Ranch! Horseback riding lessons near the Twin Cities, MN, Stillwater, MN and Hudson, WI. Western horse riding lessons, English horse riding lessons, Western Dressage Training and riding lessons.