After School Saddle Club
Saddle Club is an AFTER SCHOOL program for Horse-Crazy kids ages 8 and up and includes:
Transportation
from/ to local schools
Daily riding lesson:
Indoor and Outdoor Riding Arenas
Horsemanship Classes
with focus on anatomy, daily care and nutrition.
Supervised Homework Time
in quiet environment
Well trained staff
experienced with kids and horses
2017 Registration is now OPEN- print your flier front and back here.

Print your Registration Here.


Equitation + Education = Success
As a 501(c)3 non profit horse rescue our mission is "Let no heart or soul, human or equine fall through the cracks" and our after school saddle club embodies that mission. It is our commitment to build self confidence, independence and a passion for horsemanship- not just riding but caring for, protecting and building relationships with horses that will last a lifetime.
Lost Creek Ranch is a respite from the busy over scheduled lives many children lead. Here they become part of a barn family that works and plays together. Positive role models abound from the professionals they learn from and the older teenagers who become mentors to the younger riders. What we offer is a safe zone where everyone is welcome and belongs in our asset building community.
We are committed to the overall development of your child - from improving social skills, overcoming fear, developing a work ethic and follow through. All while becoming a skilled horse person.
Details
: Saddle Club includes a daily group riding and horsemanship lesson- we teach Western and English riding. Supervised homework/ quiet time in our heated lounge. We are happy to work with parents and teachers to check homework before or after riding. Saddle Club members are welcome to help with chores, assist other riders with grooming and observe lessons when their school work is complete.
Commitment:
Saddle Club members are expected to have a school year long commitment. You can register for one to four days per week.
Time:
The program hours are Monday - Friday from after school pick up (after 3:00 p.m.) to 6:30 p.m. Transportation from Ellsworth: Students can take the school bus to the ranch. Riverfalls students can take our van transportation for $5/ day (additional $5 for transport back to Riverfalls after program). If you live outside of our pick up zones please contact us about carpooling.
Cost:
Saddle Club is $45/ day (plus $5 transportation fee if applicable). Monthly costs based on four weeks: One day per week $180, Two days per week $360, Three days per week $540 and Four days per week $720. Months are prepaid at the beginning of each month. Day camps are available for school holidays for $65/ day.
The learning and growth throughout the year will be showcased with a mid winter and spring Parent Night demonstrations.
Call today to schedule a visit and meet our horses! We look forward to meeting you!

Download Brochure HERE

Download Registration HERE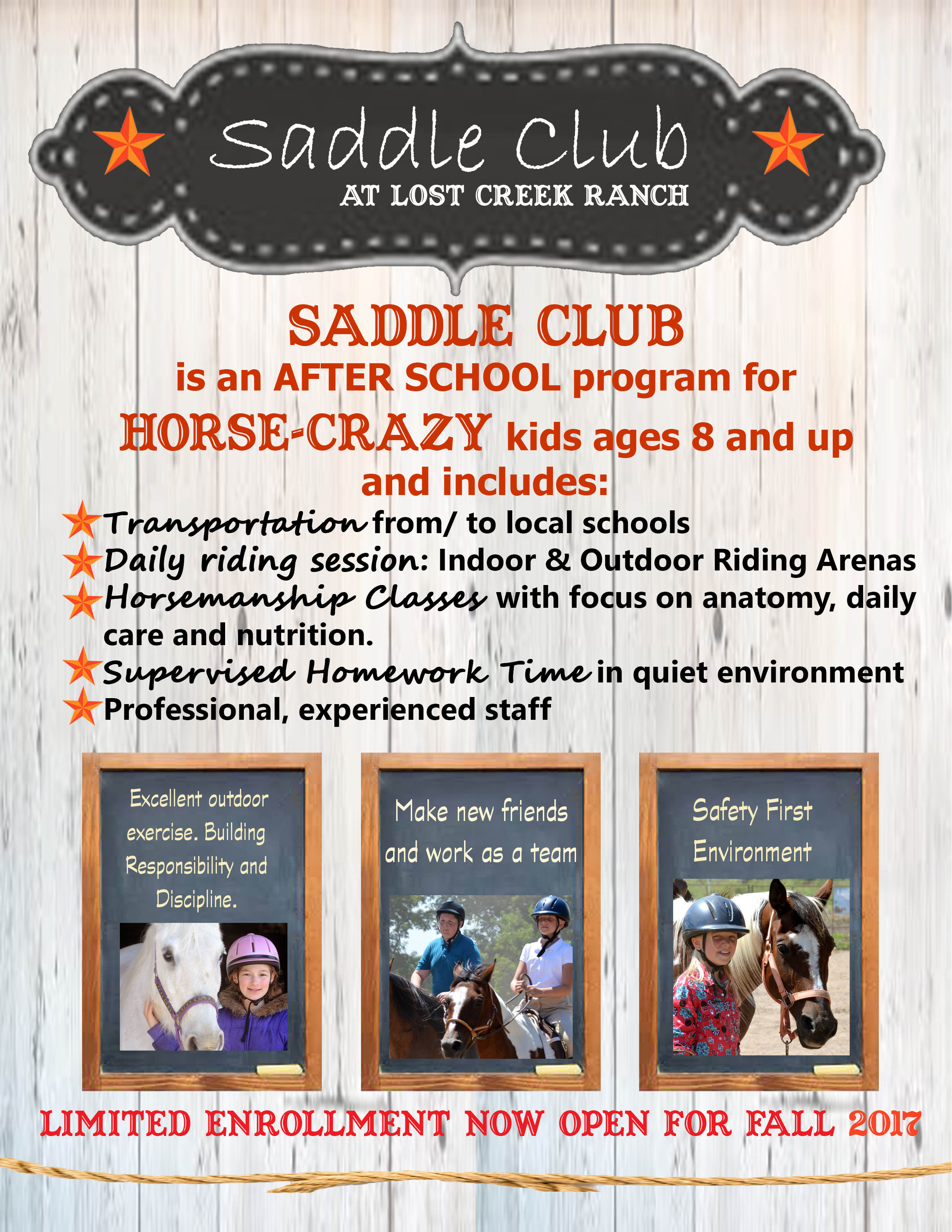 Programs for the Littlest Horse Lovers
Hands on Horses:
Our newest program is perfect for children ages 7 & up who have little or no horse experience. In Hands on Horses your little cowpoke will learn to safely lead, groom and begin to saddle one of our gentle lesson horses. Each session ends with a riding lesson and helping with a ranch chore.
Hands on Horses and Little Buckaroos are Seasonal Programs that Run May-September. If you are interested in being contacted when these programs start again please email us lostcreek@wildblue.net


Little Buckaroos:
Our Little Buckaroos Preschool program lets your preschooler get up close and personal with our golden oldie school horses who love the little ones. Buckaroos enjoy grooming and being led on around the arena while gaining confidence.
Tuesdays 5:30 ($20) June- August
_________________________________________________________________________


Have you always wanted to learn to ride horses? This is the place for you! Riding instruction,the best horse riding lessons in Wisconsin, near the Minnesota border. Horseback riding lessons WI, MN for kids and adults: western riding lessons WI, MN, English riding lessons WI, MN and the best Horse Camp in WI, MN. Learn to ride horses at Lost Creek Ranch!
Lost Creek Ranch and Lynette Weldon offer western dressage lessons and clinics in Wisconsin and Minnesota. Western Dressage WI. Western Dressage MN. Western dressage Clinics. Western Dressage Training WI and MN