About
Meet Us Meet the Horses Rescue Lessons Riding Clinics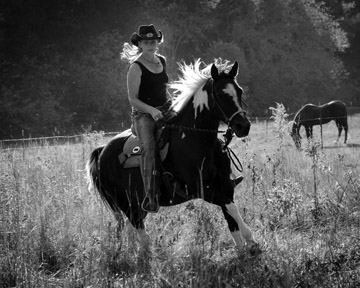 Meet Us


Lynette Weldon
Trainer, riding instructor, clinician, founder of Lost Creek Ranch
Lynette Weldon specializes in creating strong, confident riders and respectful, willing horses. Lynette's riders often joke that she is "half horse" because of her instinctual ability to understand what is going on between horse and rider. Lost Creek Ranch was founded on her strong belief that the horses needs come first- that horses are not just tools. It is this horse-first attitude that attracts riders from beginner to accomplished equestrians looking to further their skills. Everyone finds a place at Lost Creek Ranch and every horse that becomes part of the herd is trained by Lynette for a job they will excel at whether is it competing in the show ring, giving trail rides or building riders confidence as lesson horses.
Growing up Lynette cleaned stalls in exchange for riding time on horses that often no one else wanted to ride. These horses were excellent teachers. As an adult with family responsibilities her horse budget still did not allow for well bred high quality horses. In the long run this is how she became an accomplished trainer: by taking average horses and turning them into well trained, beautiful, willing partners. Her horse-first philosophy leads her to train using no short cuts, games or gimmicks- just real, honest horsemanship. Her training influences tend to be the greats from another generation including Buck Brannaman, Tom Dorrance, Ray Hunt, Frank Bell, Sally Swift and the inspiration for western dressage Jack Brainard.
The welcoming atmosphere Lynette has created at Lost Creek Ranch attracts clients from all over western Wisconsin and the Twin Cities who are eager to learn and advance their skills and enjoy the quiet refuge that is Lost Creek Ranch
.