Rescue Stories
*this page is a work in progress... be patient as I fill it with photos and stories of your favorite horses. This is a hard page to work on because every time I start I get stuck.
I sit here and wonder what did any living breathing creature do to deserve to be tied in a stall? starved to skin and bones? sent to slaughter, sick and unable to breathe? tied and hidden behind a barn to die? The most amazing part of this page is that these horses are able to forgive humans- it might take some of them longer to trust but they do come around and become secure in their new forever home where they know they will never suffer again. *Ruth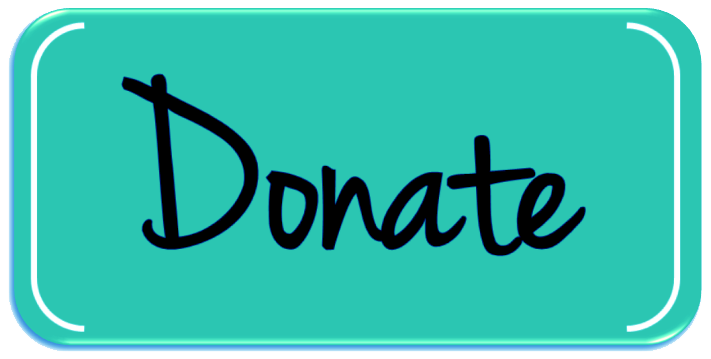 Gracie

Gracie was Lynette's first accidental rescue. Gracie is the reason that Lost Creek Ranch exists. To know Gracie today you would never know that this little mare was Lynettes greatest challenge. She spotted Gracie when she went to a barn to look at another horse that was for sale. Gracie was tied in a stall on a short rope with her head in the air because everyone was afraid of her.
Gracie's back story is unknown- what is know is that she was terrified of any bit, extremely head and ear shy and untrusting of anyone. In the beginning Lynette said sometimes it would take her half a day to get ON Gracie but once on she was able to make progress that would not have been possible from the ground.
Lynette and Gracie have been partners for 15 years now and this once scared (and scary) horse is now a favorite lesson horse who many here have learned to ride on.
Marvelous Maggie (Marv)

Sweet Marvel was boarded at a local barn where her owner stopped paying board. The owner of the barn went to court and got ownership and compensation for Marvel and her companion however she stopped providing enough hay to keep them alive and put them in a paddock together behind the barn. There they stayed all winter in the bitter cold. Boarders were concerned but unable to stop the neglect. Finally a boarder was able to get the barn owner to agree to sell the gelding to her and she immediately had the vet out and paid for Marvel to get checked as well.
At that point the barn owner put blankets on the horses and increased their feeding a little. In the meantime the new owner of the gelding found a place to move him and through a friend found Lost Creek Ranch to take Marv. Situations like this are all too common in the horse world- the owner of the barn was intimidating and people who kept their horses there were afraid to put themselves and their horses at risk.
Marv arrived with a body score of 2. Her thick winter coat helped hide her true condition. Marv is a sweet 24 yr old mare who loves children and is slowly regaining her weight. Bringing a horse back from near starvation is not just a matter of feeding them as much as they can eat- overfeeding can result in colic. So Marv is fed quality grass hay and slowly she is tolerating our special blend of feed mixed by the co-op that keeps all of our senior horses fat and happy.
Stop by Marv's stall and give her some love- as soon as she is strong enough she will spend her days outside in a quiet paddock. Marv has her forever home now and you can see how greatful she is everyday.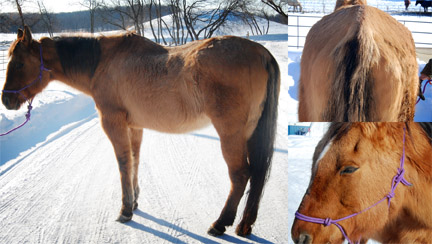 Pi
Pi is a sweet 21 year old Arabian who needs your help.
The vet put his body score at 1.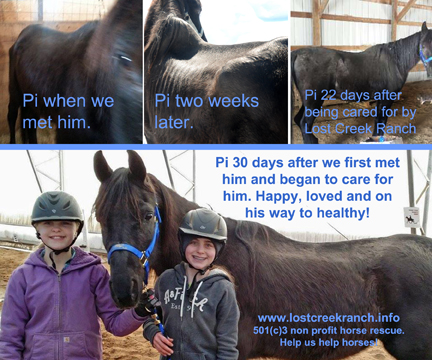 Pi has continued to gain weight and spirit. His recovery is a slow one but his sweet face and gentle nature have made him a favorite at the ranch.

Baby Star

Baby came from the kill pen at the auction- we paid $30 to keep her from going on one of the two trucks that left the auction that night headed for the border with their final stop being at the slaughter house.
Baby was with the yearlings as she was just slightly larger than them but turns out she was about 4. When she arrived she was so weak her legs shook and it took all her strength to stand. Lynette fed Baby small meals every 2 hours for the first few weeks in a stall. Baby slowly gained weight and strength.
Here she is one week after arriving in October then again in February filling out and becoming very furry!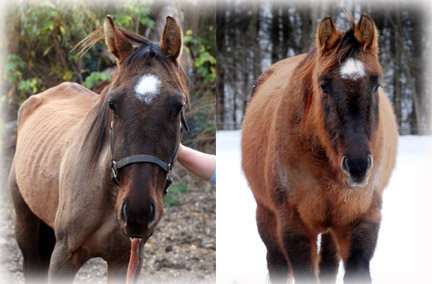 By spring she was ready to start her groundwork training.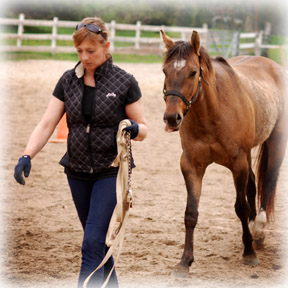 and by summer she was ready for a rider!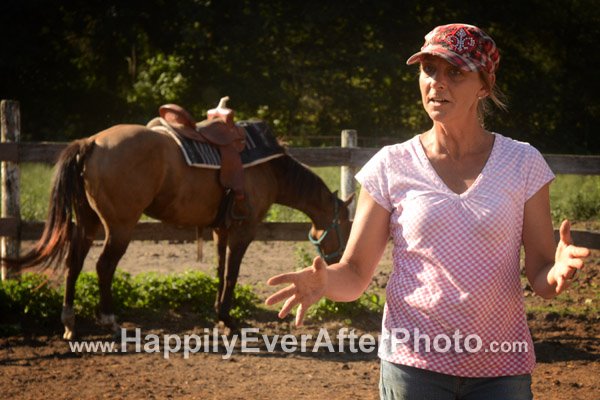 Lynette taught the interns and riders at Lost Creek Ranch about starting a horse under saddle using Baby. Baby was very reactive and quick- everyone learned a lot about listening to the horse and "fitting the horse"- not making the horse fit you or what you think you know about training.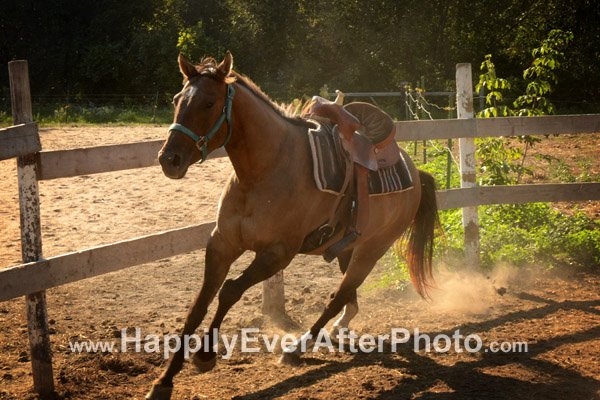 Baby Star is now our intern Carson's project horse and doing very well under saddle. In the mares paddock she is bossy, sassy and all around annoying to the older mares!
*We will be posting new photos and video soon of Baby Star's progress- she is doing great and loves working!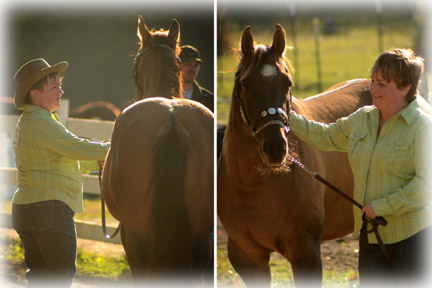 Cari showed Baby in halter class at one of our Fun Shows.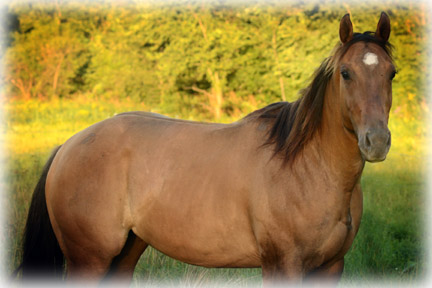 Belle

Belle is a Foundation Morgan Horse who you can see from this photo is not what most people think of when they think "rescue horse." The reason Belle came to us is that her owner had been attempting to treat a severe hoof abscess for over 5 months with little progress. Our farrier introduced us to Belle and we brought her to the ranch and began treating her abscess three times per day. It was an involved process but Belle was a champ and we began making progress. Over the months Belle's original abscess has cleared up but she is still not pasture sound. Each day she improves and we are hoping by spring she will be able to live outside and begin some light riding.
Horses like Belle are considered "at risk"- at risk of going to auction where she would limp and be bought by a kill buyer. Her owner loved her and did her best to treat the abscess but she boarded Belle a distance from her home and was not able to do multiple daily treatments. When a person has a horse with an ongoing lameness issue the options are few- we are so happy Belle found her way to us and that we had room for her and that we have expert farrier care.
Our hope is that Belle is sound for riding and can be a nice lesson horse- she is a beautiful mover and the kids can't wait for her to be healthy!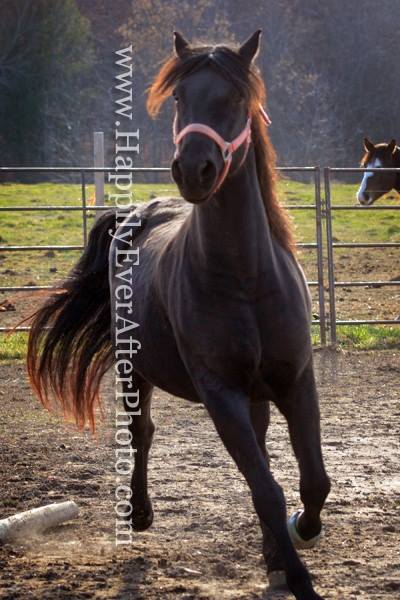 Willow

Willow came from a dude ranch out west where she was a trail horse. When the place closed down they left their herd of horses to fend for themselves. Willow was starving and had a hole in her leg when she was rescued. One of our ranch vets brought several of these horses home with her and asked Lynette if she would care for Willow. It took 2 years for Willow to begin to soften a little and interact with people. Now Willow is a favorite trail horse and loves her job- she is also one of our head mares and never lets anyone forget it!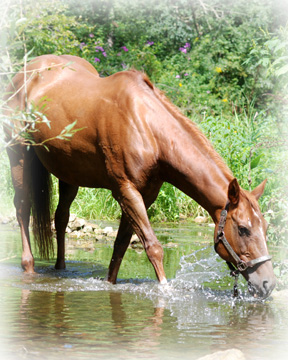 Cody

Cody had 2 good years with us at Lost Creek Ranch. We can only hope that his time here being a much loved lesson and camp horse can make up for the life he endured before. When Lynette arrived to take Cody he had been hidden in a barn that was overgrown with weeds. He had no food, no water and no hope. He was able to get in the trailer and start his new life. Cody knew nothing but love while at the ranch and was a favorite lesson horse. Lynette still misses Cody today!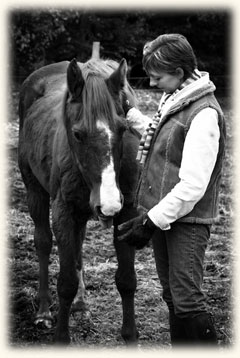 Ava

Ava was a horse we spotted in the kill pen at the local auction. She was in the middle of an overcrowded pen of terrified horses with her head on the ground struggling to breath. Lynette decided to purchase her from the kill buyers with the plan of bringing her back to the ranch and putting her down humanely in the morning so would not have to die alone and scared on the truck headed to slaughter.
In the morning Ava's breathing had improved a bit and the vet was on her way out to check Baby Star anyway... so the fight to save Ava began. She needed medication for her breathing and was several hundred pounds underweight. With round the clock feedings she was soon healthy enough to be outside. She loved being in her paddock with Blizz & Baby Star.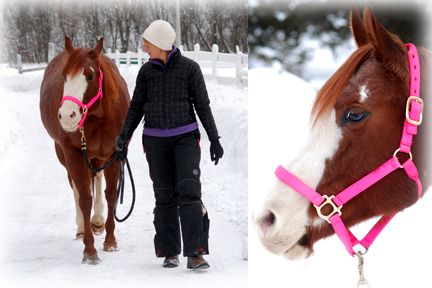 In addition to her breathing issues Ava had serious problems with her front right hoof. Her coffin bone was rotated and our farrier decided it would be best to cast her hoof to prevent more damage.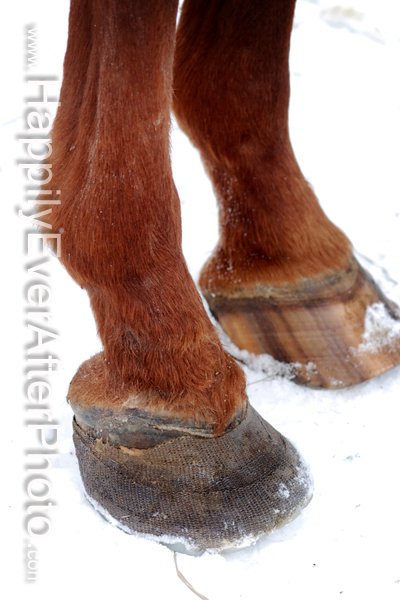 Ava undergoing Xrays on her lower leg to determine her best treatment options.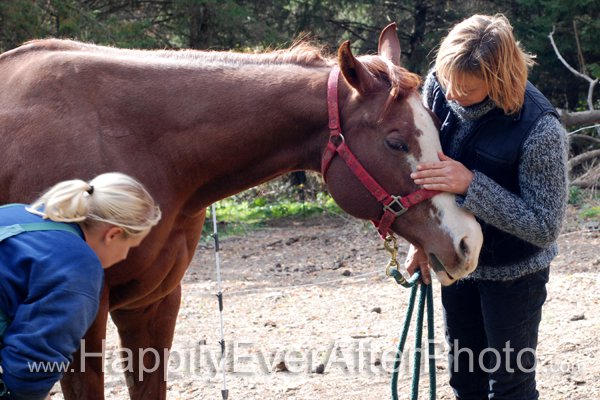 Ava was at a healthy weight by spring and knew nothing but love and affection while at the ranch but ultimately her breathing worsened and the medications were not effective. We said goodbye to Ava on a warm sunny day with Blizz by her side.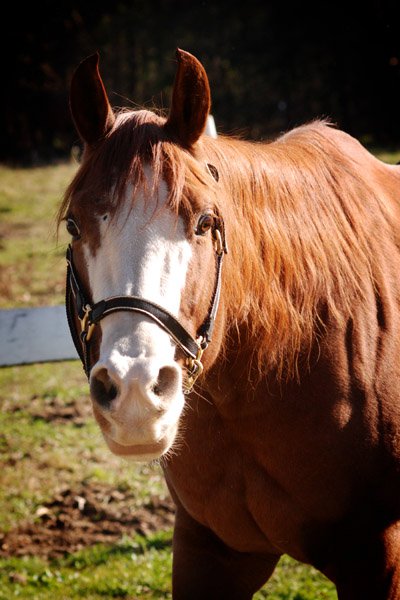 Please consider making a donation to help us continue to give rescue horses a forever home. We can not do this without your help.
You can mail a check to ranch and since we are a 501(c)3 non profit your donation is fully tax deductable. You can click the button below to make a one credit card donation or set up a monthly donation.