Ride
..
Group and Private Lessons are offered daily for every level of rider.
Monday: 5:00pm Cantering Confidence ($30) - full
Tuesday: 4:30 Youth/ Teen Advancing Riders ($45)
5:30 Beginners ($30) 2 spots open
Wednesday: RANCH CLOSED
Thursday: 4:30-5:00 Teen Small Group
5:30 Beginner Group ($30) - 2 spots open
Friday: 5-6:30 Show Team Practice ($25)
Saturday: Check monthly calendar on homepage
Sunday: Adult Beginner/ Adv Beg Group Lesson 2:30 ($45)
*Schedule your private lessons early as most times fill up*
________________________________________________________
We are open year round. Lynette's specialty is building strong, confident riders and respectful, willing horses. Would you like more information? We encourage you to contact us if you have any questions or would like more information about us and our services. You can reach us at: Lost Creek Ranch

Phone: (715) 273-6070 • Email: lostcreek@wildblue.net
Check our Clinic's Page for Lynette's Monthly Clinic Schedule
How to Dress for Winter Riding- click here to see the must haves
__________________________________________


Friday Night Show Team Practice and Games!

5:00-6:30 ($30 for students on our show team)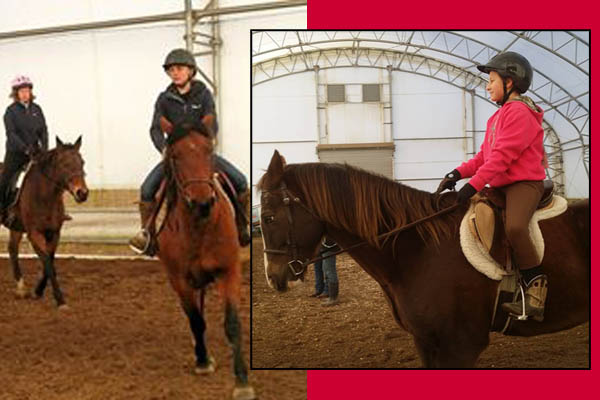 ---------------------------------------------------------------------------------------------------------------------------
Saturday Day Camps
12-3:00pm ($65) *Must pre-register
Select Saturdays - Check Calendar on Homepage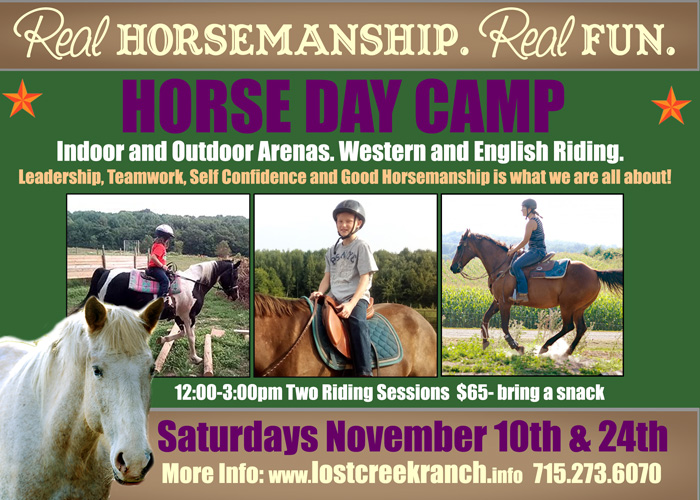 Saturday Horsemanship is one of our most popular youth programs. Riders help with a barn chore, work on a project or horse related craft and have two riding sessions each Saturday: one is a lesson and the other is games on horseback. Horsemanship is appropriate for beginners on up- we will divide the group for riding as needed. Pack a lunch and snack, dress for the weather and come prepared for a full day of fun and horses.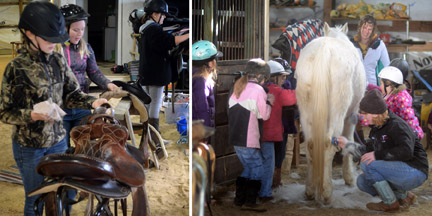 Cleaning saddles and tack as our barn chore and grooming one of our retired horses.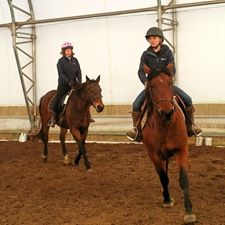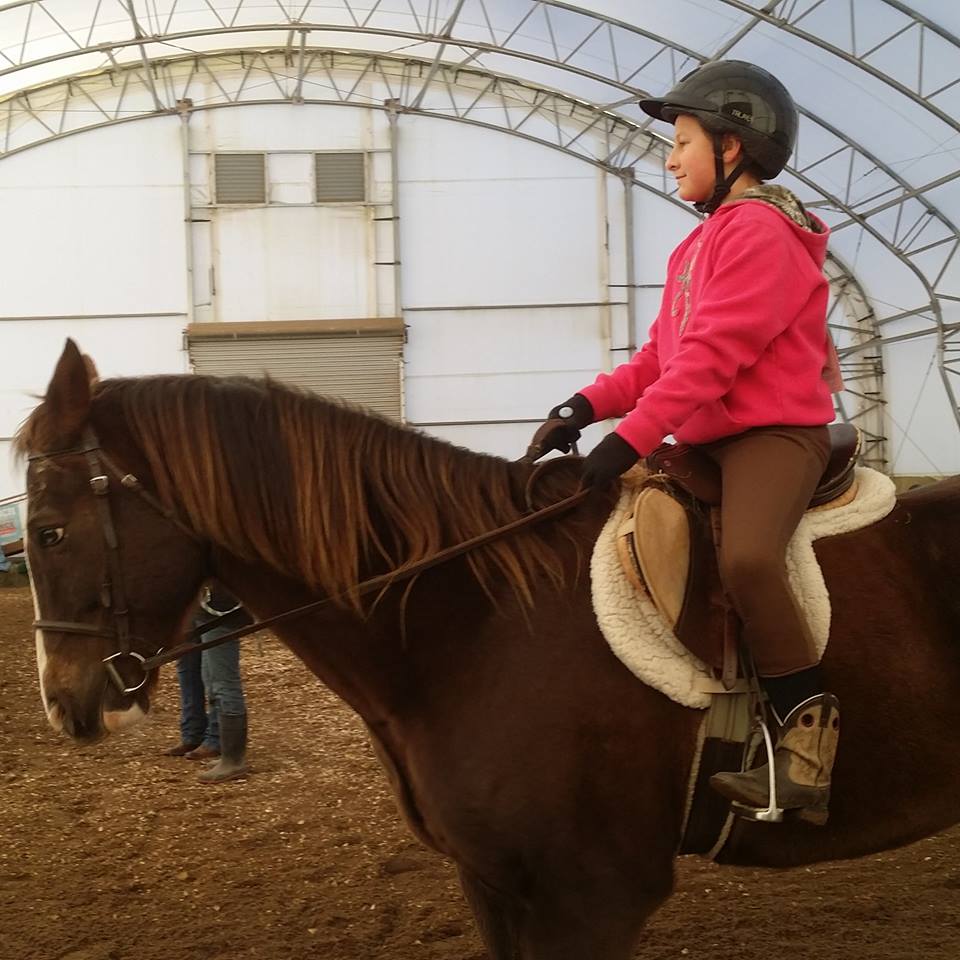 Wimter riding inside. Our bright, light arena makes winter riding fun!

________________________________________________________________
Which Group Lesson is Right for You?
Beginners: Open to ages 7 & up who are learning to walk, trot and steer their lesson horse. This group works on learning to walk over poles, weave cones, stay on the rail at the trot and safe horse handling.

Cantering Confidence: Open to all ages. This group is confident at the walk and trot. They can ride a variety of lesson horses and ride figure 8's and simple patterns at the trot. They are learning to canter and working on the skills they need to develop a good canter seat and be able to canter in a group while steering. Turn on the forehand/ haunches and lateral movements are introduced.
Advancing Riders/ Intermediate: Open to all ages of rider this group has an independent canter seat and can canter on any lesson horse. This group can execute a correct turn on the forehand/ haunches, side pass, ride patterns and figures and begin working on simple and flying lead changes.
Dressage Beginners: This small group is open to students who are interested in learning more about classical riding that trains both horse and rider (English or Western). Riders must be able to trot in balance and be starting to canter to join this group.
Private and Semi Private Lessons Available Daily
$40 with Ruth, $60 with Lynette
Private Lessons can move a rider to the next level. Private lessons are encouraged for riders learning to canter, wanting to improve their seat and balance on the lunge line, building the confidence to join a group lesson and for those who are ready to learn more advanced maneuvers.
______________

Adult Group Riding Lessons


Adult Beginner Lessons: Wednesdays 5:30, Sundays 1:00 p.m.
For adult riders who need assistance tacking their horse and getting ready to ride and are working at the trot.

Adult Advanced Beginner Lessons: Sundays 2:30 p.m.
For riders who are able to walk/trot and ride figures in the arena, are working on cantering and want to learn more advanced riding skills.
Adult Intermediate Lessons: Sundays 3:30
Riders in this group have an independent seat and are working on learning how to cue and ride more advanced maneuvers. These riders often have an interest in showing work on preparing themselves throughout the year. Lateral work, simple and flying lead changes and learning to create a soft. responsive horse are goals of this group.
Grey Mares Club: Group lesson for some of our favorite riders- our "grey mares" are ladies of a certain age who are renewing a passion for horses or starting for the firs time. We have an excellent group of lesson horses who like to go slow for timid beginners and well trained intermediate horses with smooth trots. Riding is great exercise, increases flexibility and don't worry about mounting- we have a nice ramp and high mounting blocks!
$35 Sundays 1:00pm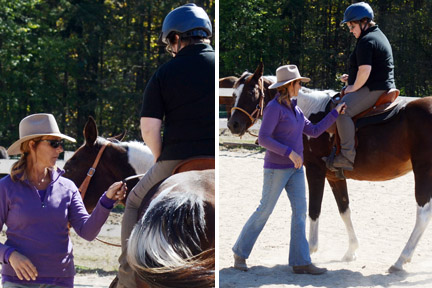 Lynette works with an adult student on her timing and feel.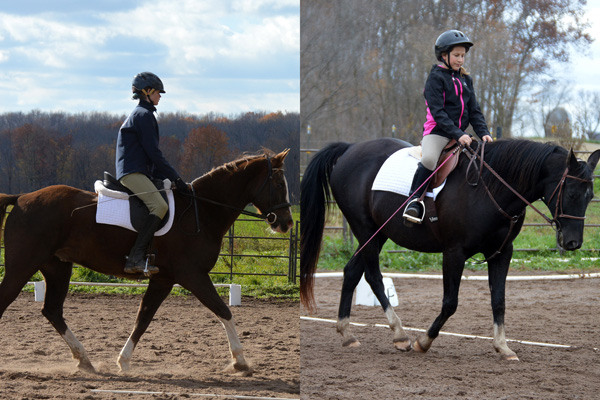 Dressage students practicing in our full size outdoor dressage arena.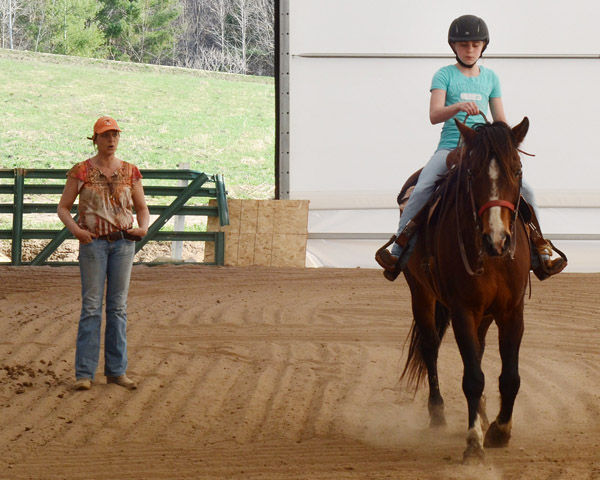 Lynette teaching a reining lesson in our indoor arena.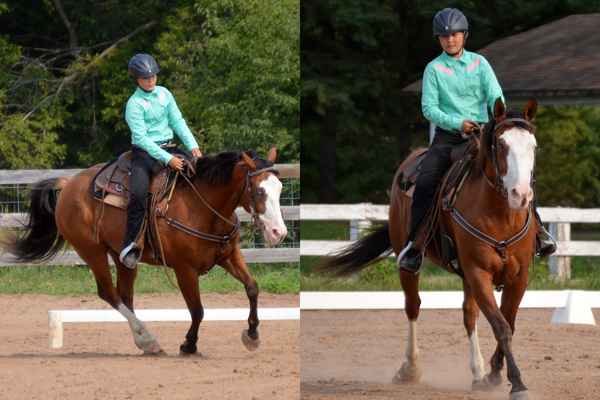 Western Dressage rider competing at a show on Boo (owned and trained by Lynette Weldon).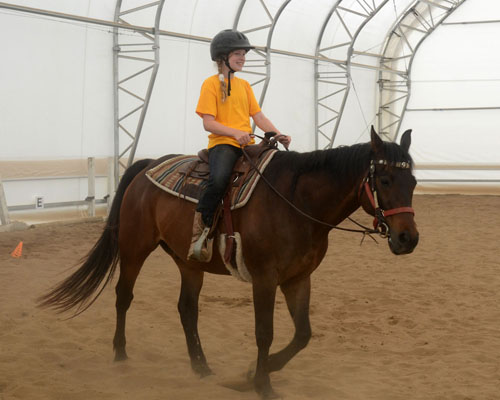 Riding inside our bright arena-a beginning rider learning to trot on a rainy day.
____________________________________________________________________
Day Camps: School Public Holidays 9:00- 3:00om ($65)
*before and after care available*
Reservations are a must as we keep class sizes small for plenty of individual attention. Kids must bring their own sack lunch.
download registration form here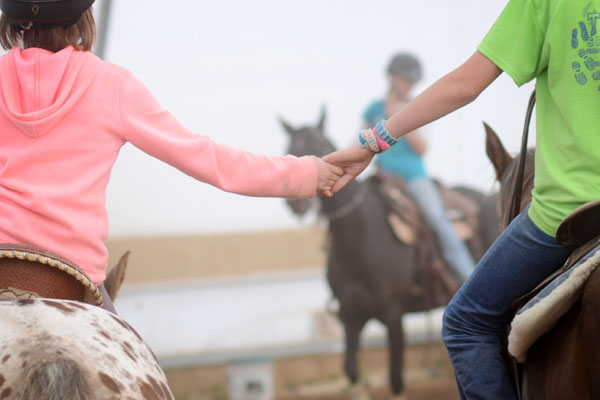 Day camps kids ride twice, play games on horseback and do horse themed crafts and activities.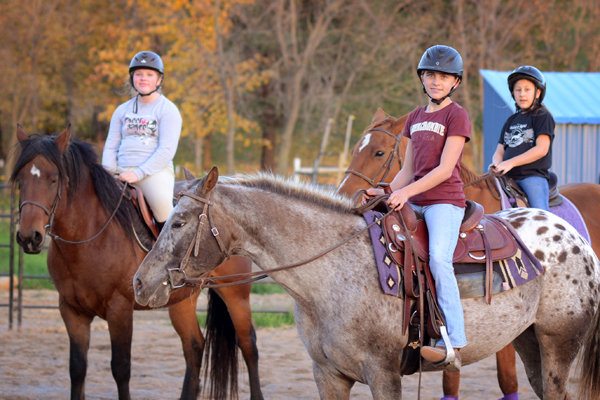 On warmer days we will ride outside and cold days in our indoor arena. On cold days dress in layers - the riders get warm when riding but it can be cold getting ready!

_________________________________________________________________________
Hands on Horses: This NEW class is offered to give school age youth a chance to spend an afternoon learning all about horses and getting hands on experience in grooming, saddling and a group riding lesson. Come explore the ranch and meet and learn about all the breeds of horses we have, horse colors and markings, help feed the herd, learn horse trivia and equine anatomy. Working with our staff you will learn how to safely handle and lead horses, read horses body language all while making new friends (both 2 legged and 4!) Every Hands on Horses class ends with a group riding lesson and parents are welcome to come early and watch the riding lesson.
*Select Saturday Mornings - check monthly calendar for dates*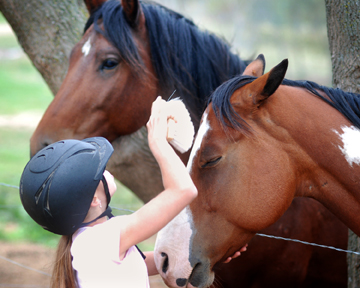 ---

Working Student Program
Accepting applications for the 2017 season


Lost Creek Ranch in Ellsworth, WI is a horse ranch with an active riding school program as well as camps, children programs and the training of young and rescue horses. Our Working Student Program is open to riding students who are currently enrolled in weekly riding lessons at Lost Creek Ranch or youth who are referred by the county or school counselor.
Being a working student requires a commitment from both the student and their family- please download the PDF and application below, fill it out and call to set up a time to meet Lynette and take a tour of the ranch.
The working student program is run in a relaxed, friendly, family atmosphere, with strong emphasis on basic horsemanship, correct riding,
barn management, teamwork, leadership and organizational skills.
The students are exposed to every aspect of running an equine business.
Gain hands-on experience in:
Safe horse handling, groundwork, grooming, equine nutrition, general medical care and more. Many of the horses students work with are rescues and have special needs.
This a physical job that also includes daily chores such as feeding, watering, cleaning stalls and general maintenance of fencing and shelters.
The Fun Stuff
Working students learn to ride and have the opportunity to learn to train and show. For every 10 hours worked students receive a group lesson taught by Lynette Weldon.
download Working Student PDF here
download Working Student Application here
_________________________________________________________________________

Have you always wanted to learn to ride horses? This is the place for you! Riding instruction,the best horse riding lessons in Wisconsin, near the Minnesota border. Horseback riding lessons WI, MN for kids and adults: western riding lessons WI, MN, English riding lessons WI, MN and the best Horse Camp in WI, MN. Learn to ride horses at Lost Creek Ranch!
Lost Creek Ranch and Lynette Weldon offer western dressage lessons and clinics in Wisconsin and Minnesota. Western Dressage WI. Western Dressage MN. Western dressage Clinics. Western Dressage Training WI and MN