Camp Confidence 2017
..
Winter Overnight Camp!

This camp is a favorite - stay in our (heated) bunkhouse and ride in our sunny bright indoor arena and heated barn area! Ride 2x/day, bonfires, sledding and more! Register early. Makes a great holiday gift!

Dec. 28-30th. $350. Print Registration here.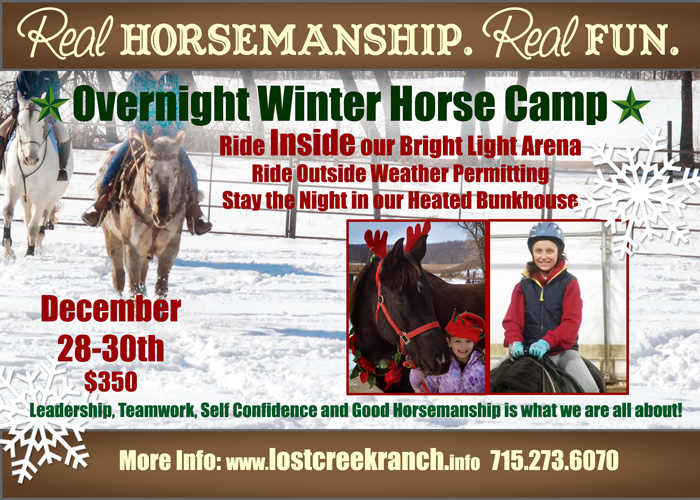 A Horse Lover's Camp!
Overnight horse riding camps offered through the summer months for ages 7-18
Safety is our first priority
Download 2015 Camp Confidence Registration form here
Download our Camp Confidence Brochure

Our smaller size camp sets us apart
from other camps with a 3:1 ratio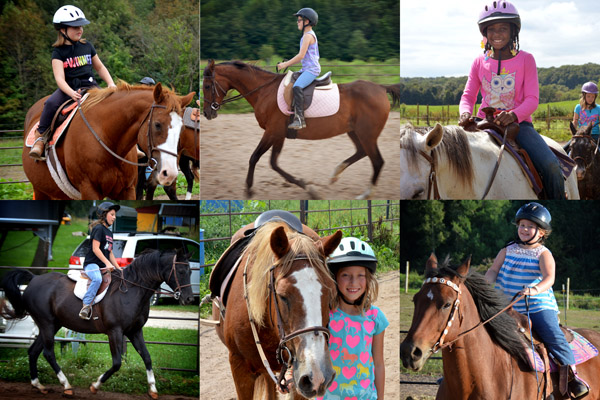 Full Licensed Overnight Camp:

What that means for you: Annual inspections, safe food handling
practices, professional staff trained in handling emergencies
and first aid/ CPR.
We are proud to be Pierce Counties only licensed horse camp!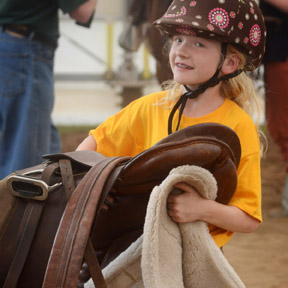 _______________________________________________________
Celebrating 13 years of overnight and day camps.

Trust your child to the best horse camp!
________________________________________



Each week campers enjoy learning from a local horse professional.



Ride, Ride, Ride:


Lost Creek Ranch campers ride 4+ hours
everyday
in addition to other horse activities.
This
is a camp for real horse lovers!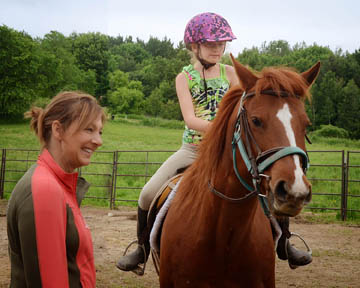 Lynette coaching a camper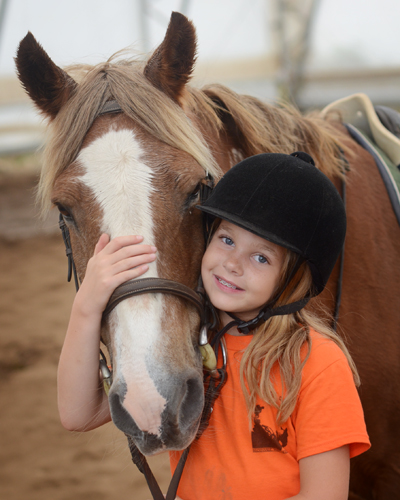 Each camper is assigned their very own horse for their stay at camp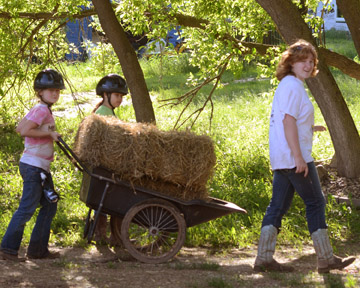 Campers help with morning chores
________________________________________________________________________
Our Philosophy
At Lost Creek Ranch the goal of our staff is to build self confidence and pride along with good skills both handling and riding horses. There is limited enrollment in each session so campers get a lot of one on one instruction. We encourage a fun but safe environment. We want to offer an experience that the kids will never forget, new friendships with other kids that share their same passion for horses and nature, along with a better knowledge of being "partners" with their horse.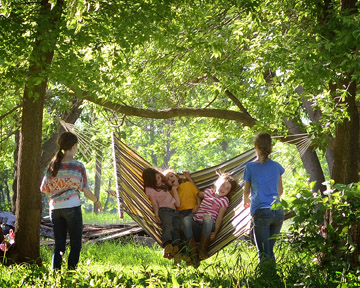 Playing on the hammock in the afternoon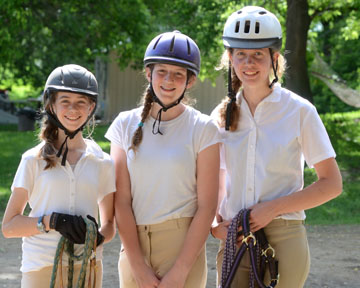 Make new friends!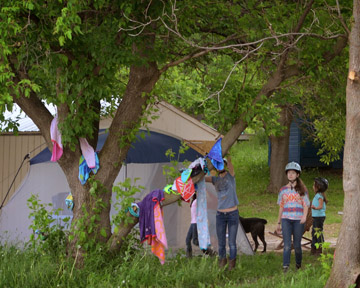 Beach towels and swimsuits drying on branches outside the bunkhouse
About Our Camp:
If your child has a desire to ride and learn about horses this is the camp for them. We offer smaller size camps with lots of horse related activities, individual lessons and group arena riding where campers learn Western and English riding and most importantly good horsemanship. Other activities include games on horseback,swimming, arts and crafts, outdoor movies and bonfires. Every week we will have a demonstration from a horse related professional whether it be the local farrier, a veterinarian, or roping demonstration. Every week long session will end with a horse show for family and friends. Campers also have the option of staying for multiple weeks. They stay in our new air conditioned/ heated bunkhouse that sleeps up to 10, with a staff member. Staff is certified in Responding to Emergencies, First Aid, CPR, and we are licensed by the Health Department. Staff also has experience in working with special diets/diabetes and developmentally disabled children and adults.
Our summer programs start the second week of June. Register early, sessions fill quickly. We offer 10% off if you pay in full by March 1st! We also offer our Advanced Riding Camp. Campers must have attended 2 prior camps,or 1 camp with a year of riding lessons and be able to canter in control. If you are unsure of your child's riding level schedule an evaluation lesson with Lynette ($25).
Lessons are offered year round for adults and children. Packages are available.


Our Facilities
Camp Confidence is located on 19 a acres at Lost Creek Ranch in Beldenville WI- just a few miles from Ellsworth and a short drive from Riverfalls and Hudson WI. Our ranch is home to the happiest horses in Wisconsin! The property features a large 120x250 lighted outdoor arena, 72x110 indoor arena- so missed rides because of rain! Barn with spacious stalls, heated lounge, heated/ AC shower, heated/ AC bunkhouse that accommodates 10. Picnic grounds and fire pits.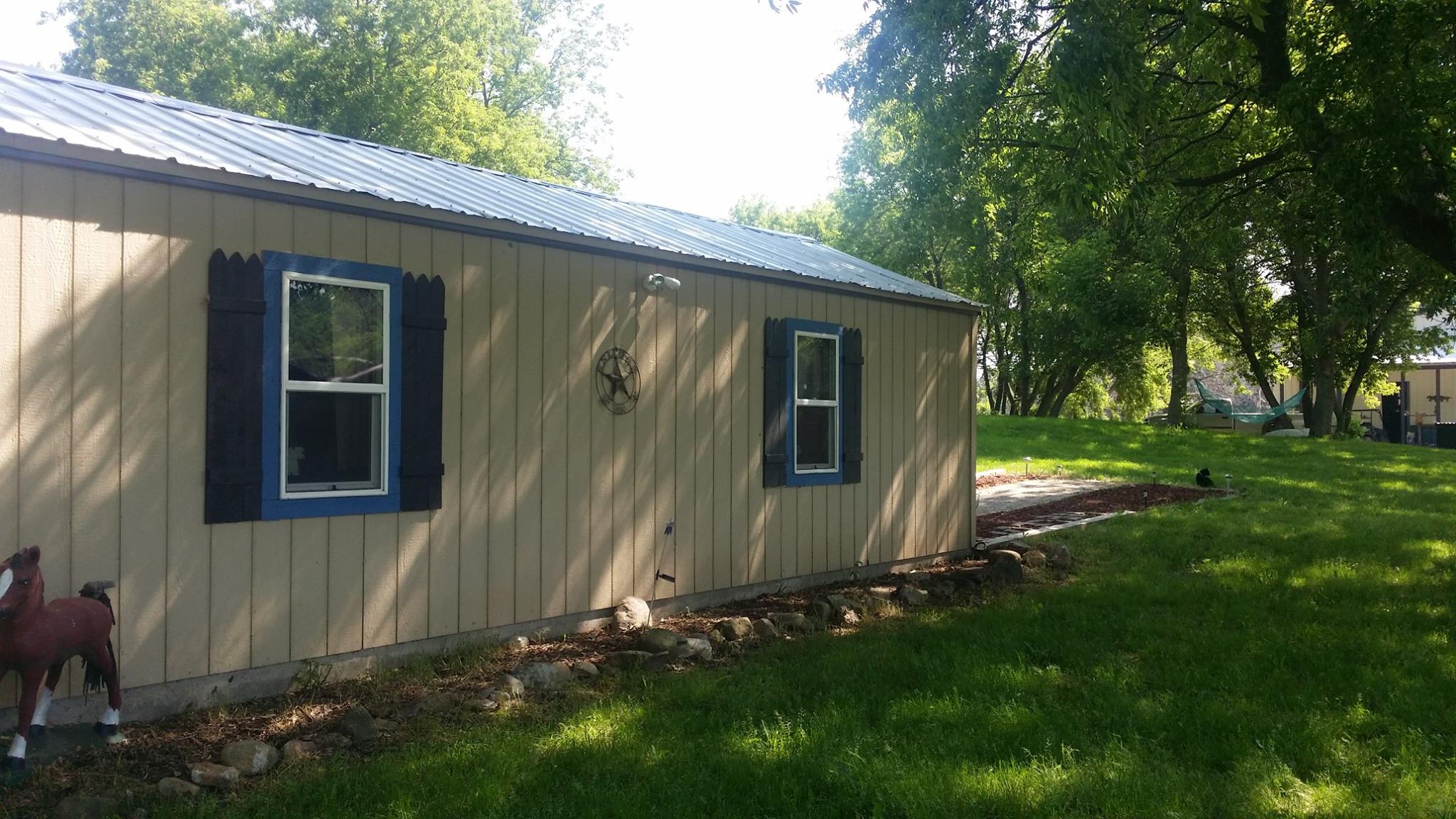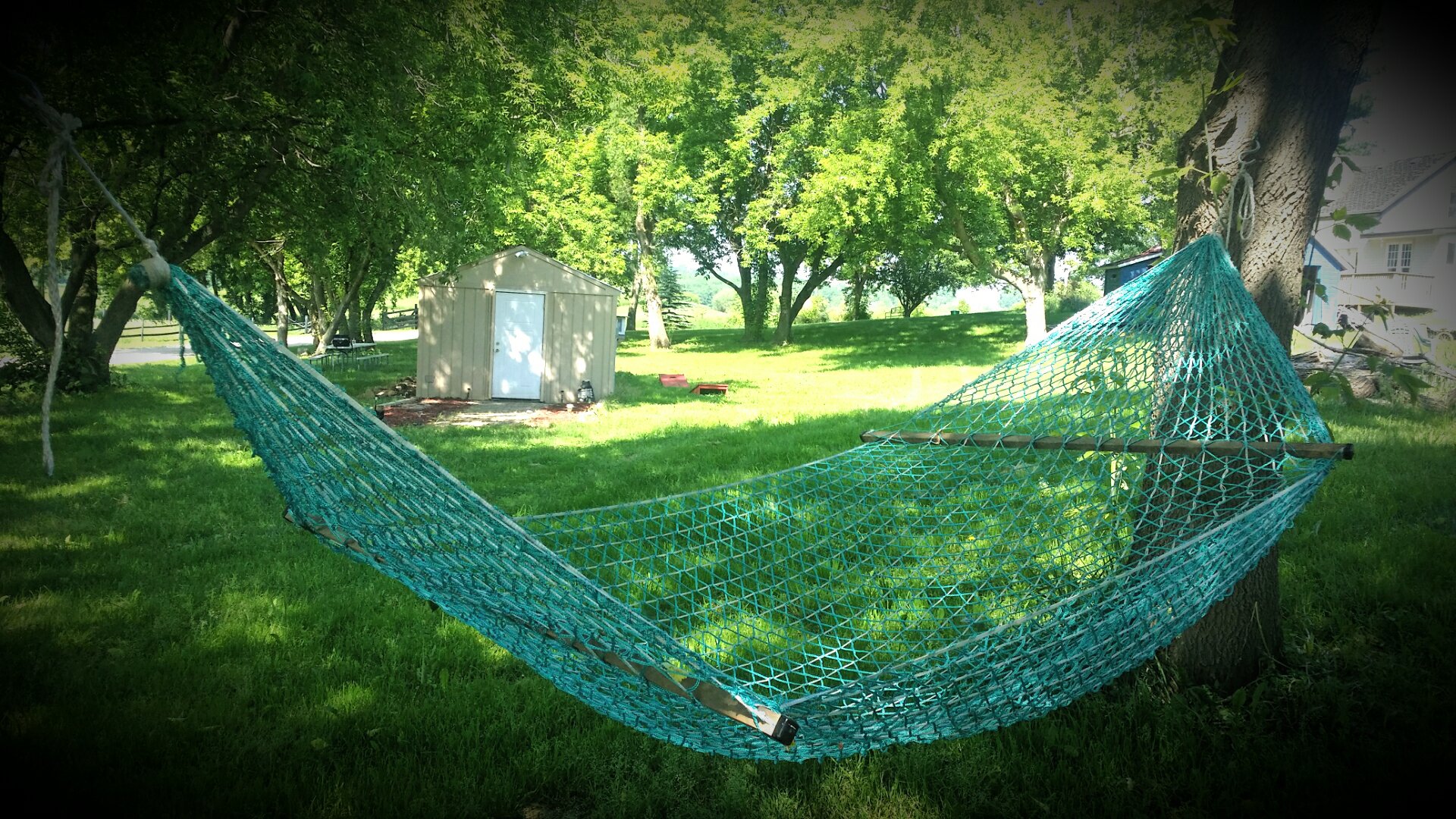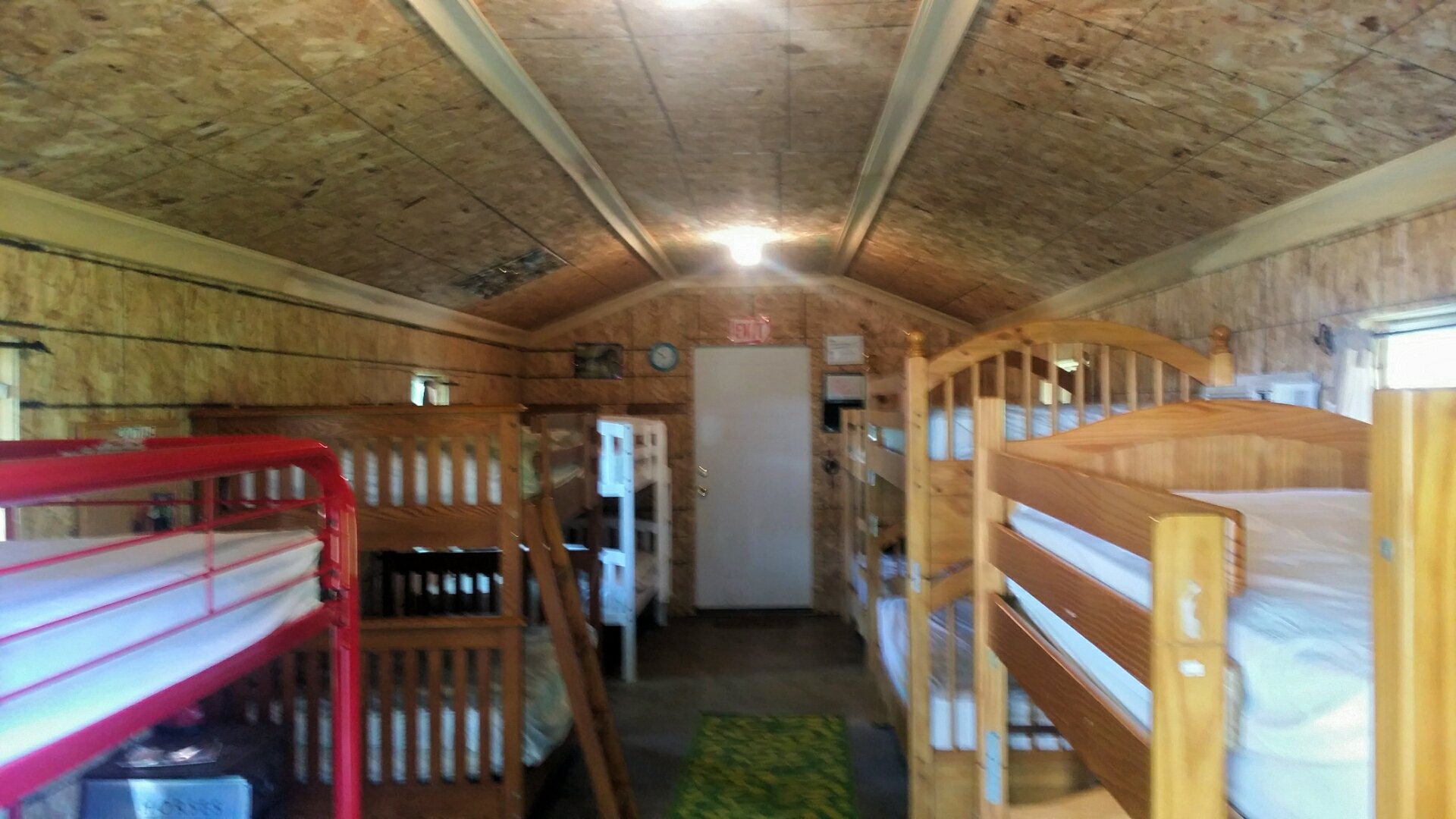 Straight from the Horses Mouth:

From a Return Campers Mom:
"...just wanted to take a minute to say again how much Lost Creek has meant to Mataya! She literally talks of little else! She is so excited to come back to camp. She is participating in young author night at her school this week. She didn't have to think about what to write about. Of course, her book is about Lost Creek Ranch! After she presents it on Thursday night she asked that I make a copy and send it to you, so be expecting that soon! Thank you so much for the work you and your staff do."

Bobbie, mom of Mataya


From a Return Camper:
"...at Camp Confidence I learned so much from how to groom a horse to how to jump! I have learned that you can't get on a horse and know how to ride. It takes time and skill. At Camp Confidence you are surrounded by girls and horses. I promise you will never be bored! For all the years to come I will never ever forget my camp memories."
Alex, return advanced camper



Here are some Thank You letters from happy campers:

These letters mean a lot to us because we not only strive to be the best riders and horsewomen but we pride ourselves on providing positive role models for the campers. It is amazing the influence that one camp can have - that lasting impression is everything to us.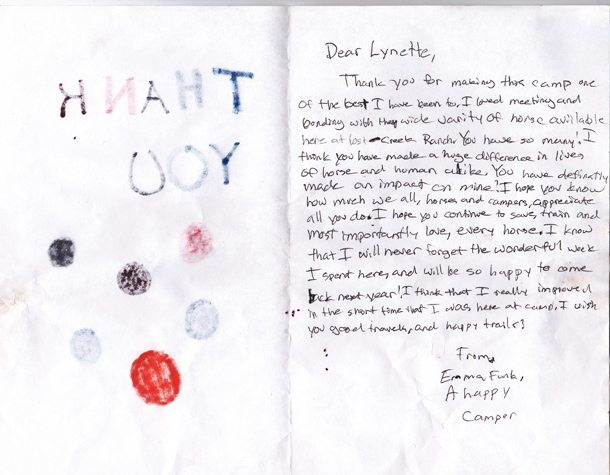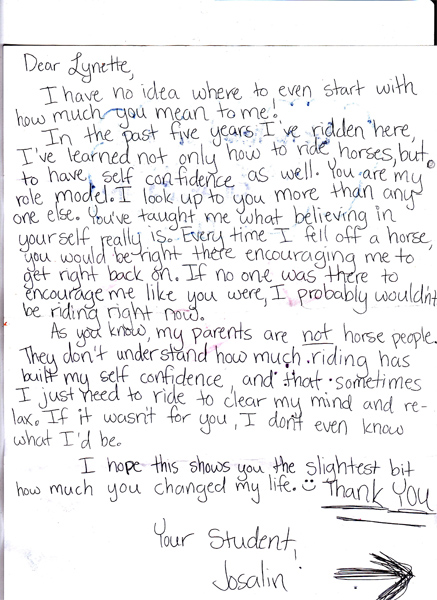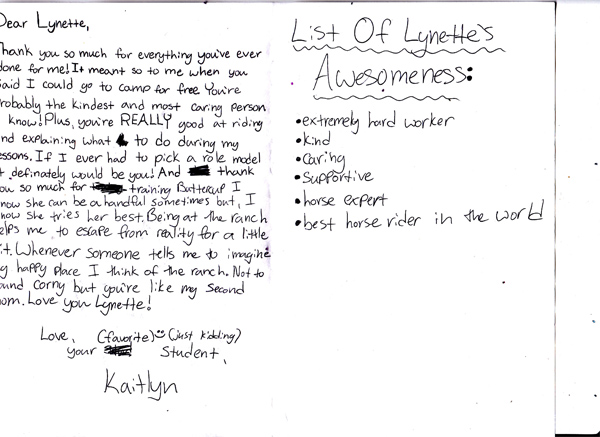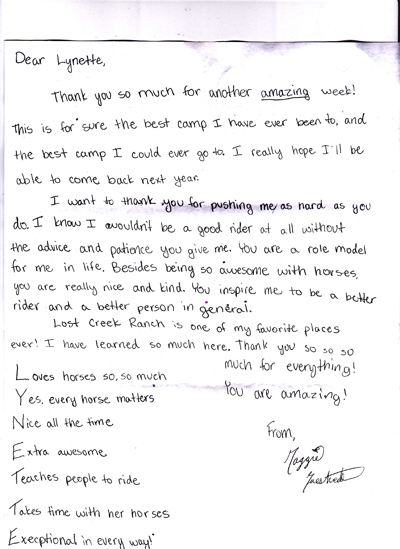 Register for Camp - 2017 Dates
To register your child, just fill out the
registration form and mail it with your deposit
($100 for mini camps and $150 for full week camps)

Our Mini Camps are perfect for beginning riders with little or no experience ages 7 & up (campers are grouped by age). Campers in Session 1 check in Sunday after 4:00pm and pick up is Tuesday 4:00pm. Mini Camp Session 2 check in Wednesday after 4:00pm and pick up is at 4:00pm Friday.Campers may sign up for Session 1 & 2 in order to stay the entire week.
$450 per Mini Camp Session
Our Weeklong Camps are just like our mini camps but longer- campers check in Monday morning after 8:00am and hold a demonstration for parents Friday at 4:00pm
$750 per Weeklong Camp Session
Join us for our 2017 Horse Show Camp!If your rider is interested in improving their riding and hitting the show ring this camp is a must! We will work twice a day in intensive riding and show ring lessons to be ready to show in real show on Saturday June 10th. Riders are welcome to show English, Western or both. Equitation, horsemanship and ring etiquette will be taught. Riders will learn about proper equipment from saddles and bits to how to dress and groom their horse for the show ring.
$750 (includes all show and coaching fees).
Back by popular demand
Teen Week
for riders 13 & up. All levels of experience are welcome- we will group based on ability. Teens with little to no riding experience are welcome! Advanced riders will explore all riding disciplines including western performance, reining, western dressage, English equitation, dressage and jumping.We also will be visiting the Pierce County Fair to watch the horse show, go on rides and of course eat fair food!


$825 For Teen Week

________________________________________________


2017 Camp Confidence Dates
June 7-10:
Show Camp ($750 )
8 spots open
June 12-16:
Weeklong Camp ($750)
full
June 26-30:
Weeklong ($750)
full
July 9-11:
Mini Camp (Session 1) ($450)
6 spots open
July 12-14:
Mini Camp (Session 2) ($450)
8 spots open
August 7-11:
Teen Week ($825)
8 spots open
August 20-22:
Mini Camp (Session 1) ($450)
8 spots open
August 23-25:
Mini Camp (Session 2) ($450)
8 spots open
_______________________________________________

How to Register for Camp Confidence

1)
Download and print the registration form



2)

Fill out and return with a check or money order - $100 for mini camps, $150 for weeklong/ show camp/ teen week



3)

Mail to: Lost Creek Ranch, N6842 570th St, Beldenville, WI 54002



4)

When our office receives your registration you will be notified by postcard or phone call confirming your spot. Always make sure to include a second choice week.



*

You must MAIL or drop your registration form and check off in person. Do not email your registration. We are unable to hold a spot for your child without a

printed registration form and check

. No exceptions.

* Camps can fill quickly and we operate first come first served. Always choose a back up week in case your first choice week is full.
_________________________________________________________
Click here to view and download the registration form PDF file which you can print out. Or contact Lynette at (715) 273-6070
to have a registration packet mailed to you.
Print your packing list here.
__________________________________________________________

Have you always wanted to learn to ride horses? This is the place for you! Riding instruction,the best horse riding lessons in Wisconsin, near the Minnesota border. Horseback riding lessons WI, MN for kids and adults: western riding lessons WI, MN, English riding lessons WI, MN and the best Horse Camp in WI, MN. Learn to ride horses at Lost Creek Ranch!
Lost Creek Ranch and Lynette Weldon offer western dressage lessons and clinics in Wisconsin and Minnesota. Western Dressage WI. Western Dressage MN. Western dressage Clinics. Western Dressage Training WI and MN