Clinics
2017 Clinic Series
Western Dressage
Advanced Riding
Confidence Building

Trail Obstacle

De-Spooking


Trail Clinic is Saturday Sunday Ocober 8th. Register Now.
Print your clinic registration here.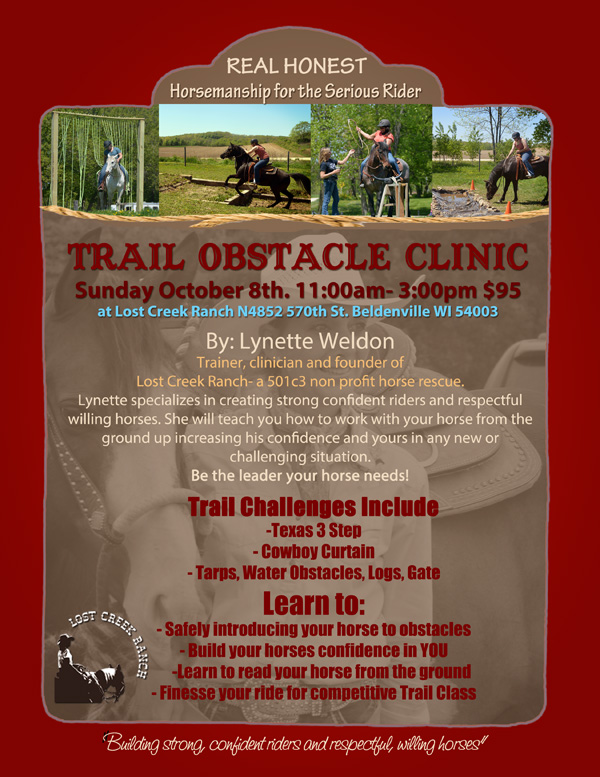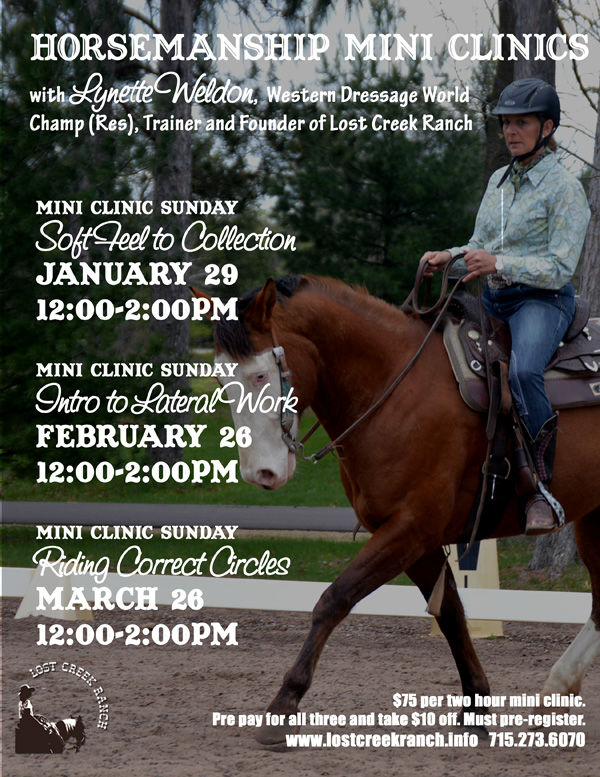 ________________________________________________

Host a Clinic at your Barn
To be a clinic host you will need a minimum of 6 riders. Rates vary by number of hours and number of days. Private and semi private lessons also available before and after clinic rides. Contact the ranch for dates available and you will be provided with fliers, forms and everything you need to get started. Lynette will travel to your location (no travel fee for western WI and the greater Twin Cities area).
This is a great way to introduce your barn to Western Dressage over the winter. Western Dressage Clinics are one of Lynette's favorites and are valuable to riders from walk/trot through advanced.
Contact Lynette today to book your clinic 715-273-6070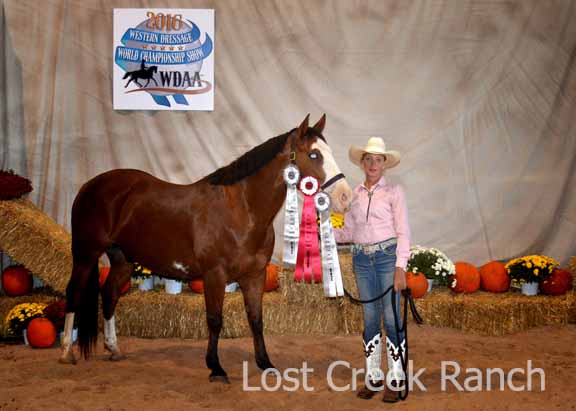 Lynette Weldon and Boo, trained and owned by Lynette. Res Champ, 2 top 10 finishes.
____________________________________________________________________
More info email lostcreek@wildblue.net or call 715.273.6070
clinic spots fill fast!
Print your clinic registration HERE
If this is your first clinic with Lynette please also print and return this questionnaire so she can get to know more about you and your horsemanship goals:
______________________________________________________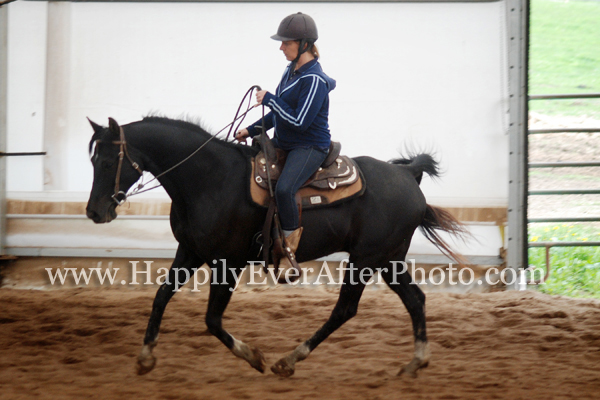 Lynette riding a training horse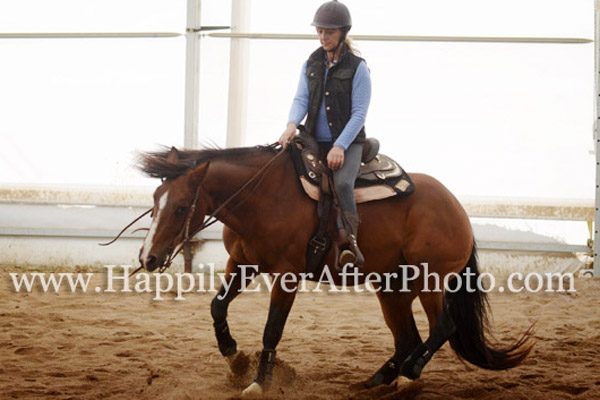 Working on a reining spin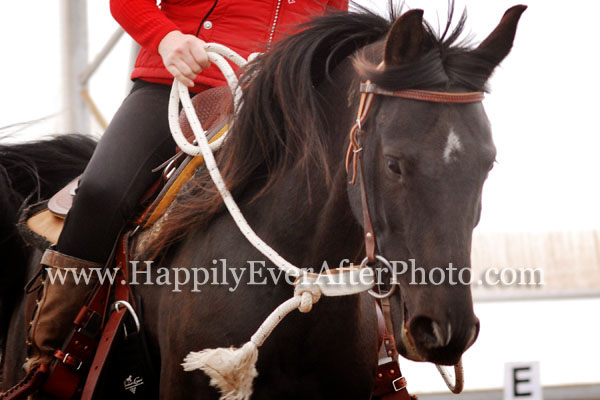 Lynette teaching a horse to carry himself and be soft in the bridle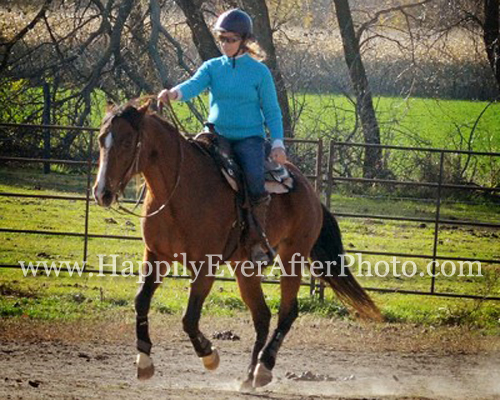 In Lynette's advanced clinics you will learn about true collection and how build your horses strength and set your horse up for higher level movements.
_____________________________________________________________________
Attend a Clinic at Lost Creek Ranch
In the Foundation Clinic
you will learn:
- Herd dynamics- how to be head mare
- What is feel and why its important
-Learn to read your horse from the ground and in the saddle
- Work through common issues
- rein management
- one rein stop
-Becoming a Balanced Rider
In
Building a Working Relationship
you will learn:
-Advanced Ground Work
-Controlling the Riders Body
-What is "soft" and why it's important
-Understanding Real
Collection
-Coordinating your aids
-The Back Up, timing and footfall
-Training a bosal horse
In the
Advanced Riding Clinic
you will work on:
-Understanding Leads
- Preparing for flying changes
- Lateral work
-The Turnaround/Spin
-Stops
-Introduction to the "bridle horse"
-Showing Your Horse
- Intro to Western Dressage


*Register for both Building a Working Relationship and Advanced Riding Clinic and save $40 - just $200 for both days of riding*
______________________________________________________________________
Western Dressage Clinics

Western Dressage is a fast growing sport that showcases the talent and partnership of western horses and riders. The Western Dressage Association of America (WDAA) states that the goal of Western Dressage is "to develop a partnership between a happy equine athlete working in harmony with his rider." This has been Lynette Weldon's philosophy for her entire training career. It's this horse-first attitude that attracts so so many riders to Western Dressage and to lesson and clinic with Lynette.
Lynette's goal for Western Dressage, like classical dressage, is to develop a soft, supple, athletic horse with exceptional balance in all maneuvers. Riders compete in western saddles and tack. Western Dressage horses start at Intro Level which is walk/trot and continue to move up the levels. At the top levels horses perform flying lead changes, canter half pass and more.
The show team at Lost Creek Ranch shows at Western Dressage shows locally and at the World Show in Tulsa OK in the fall. If you would like to learn more about Western Dressage training, riding and showing contact Lynette about lessons, attending a clinic at Lost Creek Ranch or to host a Western Dressage clinic at your barn.
Book a western dressage clinic at your barn- organize five riders and you ride for free. Western dressage clinics by Lynette Weldon are regularly held in Wisconsin and Minnesota and Lynette is available to travel to your location anywhere in the U.S.
______________________________________________________________________
Clinics by Lynette Weldon
Lynette's clients often joke that she is "half horse" because of her innate ability to understand communication between horse and rider. It is this ability that allows her to get to the heart of any difficulties the rider may be experiencing and offer concrete advice and teach the rider the skills necessary to better work with their horse.
A natural teacher Lynette instinctively knows when a rider or horse needs to be pushed and when they need to take a step back. Her talents have earned her a loyal following of formerly timid riders who have gained the confidence to take their horsemanship to the next level.
Clinics can be specific to your groups interest such as Western Dressage, Confidence Building, Riding with Feel, Groundwork (starting young horses or restarting older ones), Balanced seat/ Equitation (Western and English) or her most popular topic "Horse and Rider Communication" which will allow each rider to work on their horse and improve their riding and training skills at their own pace.
What You Will Learn
Lynette will start on the ground teaching riders to "read" their horse- including the often missed little clues into where the horse is at mentally, gain the horses respect and become the leader.
Feel and Release: Horses learn from release and your timing has to be spot-on to be effective. Lynette will work with riders on timing and understanding how horses learn.
Confidence: Most riders have confidence issues from time to time. Lynette will teach riders how to control each part of their horse, increasing control and building confidence in all situations from arena to showing to trail riding.
The steps needed in order to achieve advanced skills including

flying lead changes.
In addition to working on your horse you will be working on you. Sitting correctly in the saddle, quiet hands and a light feel are important building blocks to creating a soft, supple, light horse with

self carriage and true collection

.
Clinics can be tailored to fit your groups goals and be assured that every rider and horse will get lots of one on on instruction and come away with new skills and confidence.
_____________________________________________________________________
Host a Clinic at Your Location:
To be a clinic host you will need a minimum of 6 riders. Rates vary by number of hours and number of days. Private and semi private lessons also available before and after clinic rides. Contact the ranch for dates available and you will be provided with fliers, forms and everything you need to get started. Lynette will travel to your location (no travel fee for western WI and the greater Twin Cities area).
*Host a clinic in March or April and get a free Lost Creek Ranch fleece jacket!*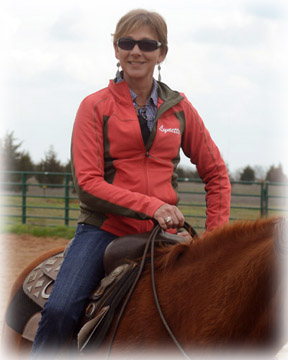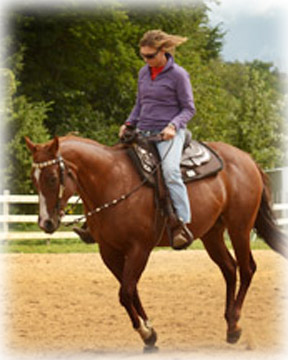 Lynette Weldon is an experienced horse trainer and clinician who has trained many breeds including Arabs, Mustangs, TB and crosses, Drafts, Saddlebreds, QH and Paints. Running a horse rescue means that she trains everything that comes to the ranch and finds the right job for that horse.
______________________________________________________________________
Clinic Series: Western Dressage
Western Dressage: New and upcoming sport for all horses and riders of all abilities! Western Dressage aims to train a more supple, responsive horse as the rider learns to refine their aids.
Topics covered include: Improving horse and rider communication, correct aids, rider and horse balance in transitions and more. Riders of all abilities welcome! Green horses welcome too!

*Clinic schedule will include one on one instruction with Lynette Weldon as well as group work and learning the dressage arena and movements. Clinic participants will have the opportunity to ride a Western Dressage Test at the end of the clinic.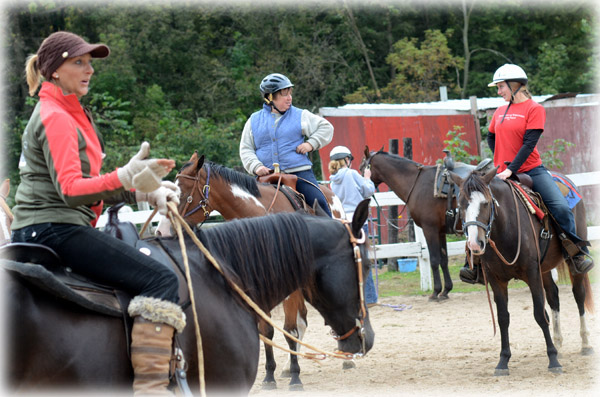 Thanks to all the riders who joined our recent Western Dressage clinics!
_____________________________________________________________________
Clinic Series: Trail Confidence
Beginning on the ground in the arena you will introduce your horse to new obstacles and build your horses confidence in your leadership. You will progress through the arena mounted and at the end of the clinic our newly confident horse and rider teams will hit the trails.

In this clinic your horse will learn to walk over and around scary objects, cross water, learn to not react to sudden loud noises and more! You will also gain valuable information about getting your horse back into working condition, arena exercises that you can do on the trail and creating a more responsive, supple horse.
Lynette's Trail Confidence clinics are popular and a great way to start getting your trail horse back in working condition or get your show horse out of the arena!

New this year we are going offer a fun way to test you and your horses in a trail challenge competition through the American Competitive Trail Horse Association- a group dedicated to "full equine employment" to ease the "unwanted horse" problem. They donate 25% of income from their casual competitive trail rides to charity. So let us know if you are interested in joining us for some trail riding fun!
Overnight accomadations for horses and people available for clinics at Lost Creek Ranch.