Group Riding Lessons for Adults and Youth
Group Riding Lessons are offered for all ages and abilities.We teach Western and English riding with an emphasis on real horsemanship. Join the fun!

Adult Beginner Lessons:
Private and Semi Private Lessons available by appointment. $40
For adult riders who need assistance tacking their horse and getting ready to ride and are working at the walk and trot.
Adult Advanced Beginner Group Lessons:
Sundays 1:00 p.m. $35
For riders who are able to walk/trot and ride figures in the arena, are working on cantering and want to learn more advanced riding skills. *Must be confident saddling without assistance.
Adult Intermediate Group Lessons:
Sundays 2:30 $35
Intermediate adults are learning advanced maneuvers and are confident cantering.
Monthly Mini Clinics with Lynette Weldon:
Contact us for dates. 2 hr clinics for adults. Clinic topics focus on riding fundamentals, advancing your horse, polishing your riding for the show ring and more. $65.


_________________________________________________________________________

Beginner Youth Group Lessons
-
Open to ages 7 & up who are learning to walk, trot and steer their lesson horse. This group works on learning to walk over poles, weave cones, stay on the rail at the trot and safe horse handling.
Tuesdays 5:30pm (2 openings), Thursdays 5:30 (2 openings)

$30 per rider. Ages 7 & up- will divide and group by ability as needed.


Teen Small Group Lessons-
Open to beginner - intermediate teens who want to learn and have fun in a supportive group environment.

Tuesdays and Thursdays 4:30-5:30
$35 per rider. Contact for availability.


Cantering Confidence Group Lessons:
Open to all ages. This group is confident at the walk and trot. They can ride a variety of lesson horses and ride figure 8's and simple patterns at the trot. They are learning to canter and working on the skills they need to develop a good canter seat and be able to canter in a group while steering. Turn on the forehand/ haunches and lateral movements are introduced.
Wednesdays 5:00pm

$30 per rider.
Intermediate/ Advanced Youth Group Lesson taught by Lynette
:
Open to all ages of rider this group has an independent canter seat and can canter on any lesson horse. This group can execute a correct turn on the forehand/ haunches, side pass, ride patterns and figures and begin working on simple and flying lead changes.
Tuesdays 4:30pm- Note the Winter Time Change for this Group
$45 per rider.

Save with Lesson Card: Buy 5 group lessons & your 6th is free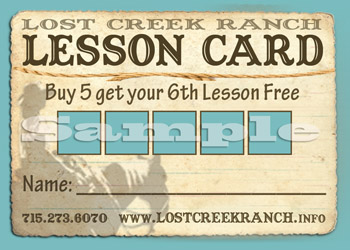 Kids Saturdays Day Camps
are geared for youth riders who can stop, start and steer at the walk and trot- advanced riders will work in a separate group for riding sessions. Our horsemanship Saturdays are packed with fun games on horseback, great horse knowledge, new friends and lots of one on one attention. Come join the fun!
*Select Saturdays Fall, Winter & Spring- check monthly calendar for dates*
________________________________________________________________________


Have you always wanted to learn to ride horses? This is the place for you! Riding instruction,the best horse riding lessons in Wisconsin, near the Minnesota border. Horseback riding lessons WI, MN for kids and adults: western riding lessons WI, MN, English riding lessons WI, MN and the best Horse Camp in WI, MN. Learn to ride horses at Lost Creek Ranch!
Lost Creek Ranch and Lynette Weldon offer western dressage lessons and clinics in Wisconsin and Minnesota. Western Dressage WI. Western Dressage MN. Western dressage Clinics. Western Dressage Training WI and MN